DigiVive, a leading data value-added-services provider has partnered with Zen mobile for its mobile TV service – nexGTv which will be available on Ultratab A100 7.0, Zen Mobile's new launched Android 4.0 Tablet.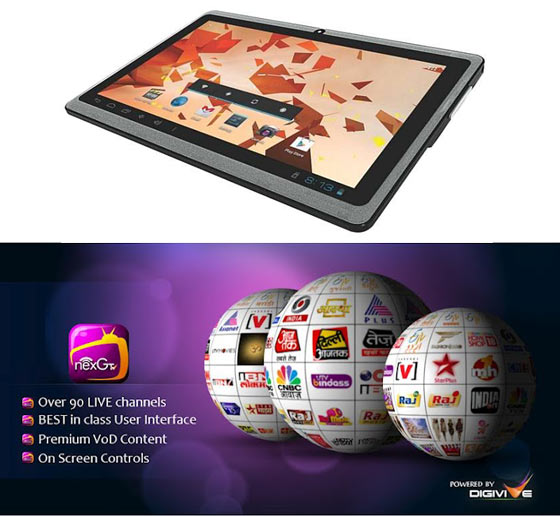 The nexGTV will be preloaded in Zen Ultra Tab 7.0 and is absolutely FREE of charge for the end users (Data charges will be applicable as per Mobile/Data Provider). This will enable users to view over LIVE Mobile TV with 100 channels and Video-on-Demand at a click of a button on the move.
Rohit Sawhney, Senior Vice President of Operations at DigiVive, said, "We at DigiVive are excited to partner with Zen mobile and embedding the nexGTv service in the Zen Ultra Tab 7.0. The tablet is powered by Android 4.0 that supports high speed internet connectivity and 3G, enhancing live streaming of video and content. Through the nexGTv service, users of the Zen Ultra Tab 7.0 can enjoy Live TV on the move and view over 100 live channels, pre-recorded video and video on demand."
NexGTv is Mobile TV application with best of the Indian channels & Video on demand content. nexGTv Mobile TV Client is one of the best application which offers a compelling end-user experience to view Live TV on mobile devices. It is the easiest and quickest way to have access to over 100 Live Indian TV channels, Replay TV and Video on Demand. That's not all, now you don't have to depend on 3G network to view video content. Our unique and innovative feature of Adaptive-bit-rate streaming enables you to enjoy Live TV even on a 2G network.
Zen Ultratab A100 7.0 features
Processor/ GPU : 1.2 GHz processor / MALI 400
Software : Android 4.0.3 Ice Cream Sandwich
Display : 800×480 pixels 5 point Capacitive Touch Screen
Camera : 1.3 MP front camera with digital zoom
Memory : RAM 512MB DDR3, External TF card (maximum 32GB available)
Battery life Capacity : 14hrs + Web usage (on Wi-Fi) or 3.5h hours of 720p video playback/2800 mAh
Sound : MP3, WAV, AAC, WMA Etc.
Dimensions : 181.5x121x10.5 mm
Weight : 295g
The Zen UltraTab is priced at Rs. 6199. Zen Mobiles have partnered with HomeShop18 for Rs. 5,999 to launch the tablet. The tablet will available broadly on a later date.