After the big success of LG G2 and G Flex, LG electronics going to launch its latest flagship smart phone LG G3 in US market in few days. LG G3 spots larger, cleaner display, a laser-precise camera and superior smart interactivity.


According to the features we can confidently call that the G3 will be the best smart phone that LG has ever made.
LG G3 5.5″ Quad HD Display

LG G3 equipped with 5.5″ Quad HD Display which provides times the pixels of HD (2560 x 1440) with a superior pixel density of 538 ppi. Quad HD display delivers vibrant colors and ultra sharp imagery on-screen with an advanced 2,560 x 1,440 pixel structure that provides near infinite contrast of deep blacks and bright withes as well as more accurate color reproduction. You can see the difference of Hd and QHD in the picture.
LG G3 Laser-Precise Auto Focus camera

The advanced OIS+ camera not only reduce blur and shaking, the laser measures the distance to the object instantly, giving you perfect quality photos with 13MP. Laser Auto Focus allows for improved focusing speed and object detection in low-light situations. The dual LED flash make a dramatic difference in low light situations to enhance your photos. With the BSI sensor, the flash produces less blurry and much brighter pictures even under poor lighting conditions.
LG G3 Knock Code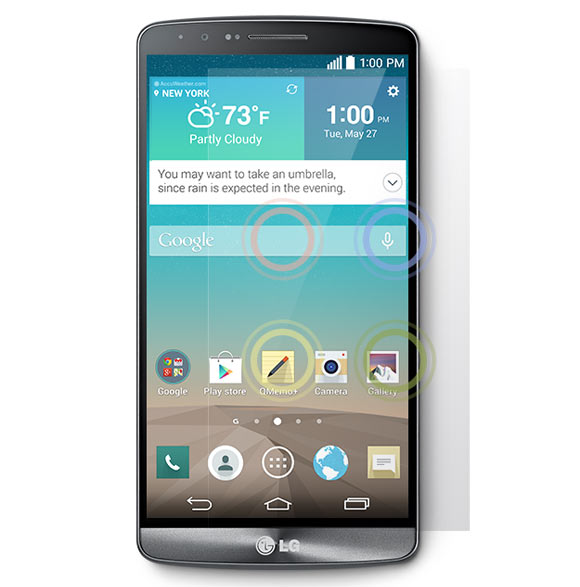 LG G3's Knock Code feature allows you to secured your phone with 86,358 different code possibilities. Let first tap a secure 3 to 8 point code based on a 4 quadrant pattern for phone security. You can tap the pattern anywhere on the screen relative to size and position and the phone will unlock.
LG G3 Smart Notice

The new Smart Notice featue of LG G3 offers a personalized, intuitive, and adaptive experience. This suggests what you need, even before you need it. Predictive recommendations are based on the status of your phone, behaviour and location.
LG G3 Specifications And Features

The LG G3 super smartphone is sleek, stylish and innovative to its core. Featuring a stunning 5.5 Inch, Quad HD 2,560 x 1,440 resolution display, Laser Auto Focus and more, the LG G3 proves that form and function are not mutually exclusive.
If you want to be the first to get the first global smartphone to feature a Quad HD display and its camera is the first to use a laser autofocus system don't forget to sign up.