Huawei is famous for their data card and has launched E355 3G Data Card in India, the World's 1st Data Card with Wi-Fi for 5 at the same time. The Huawei E355 Wi-Fi modem functions both as a data card for a single user and as a mobile Wi-Fi hotspot, which can simultaneously connect up to five Wi-Fi-enabled devices, allowing users to enjoy internet connectivity anytime, anywhere. Huawei launched the E303Cs HiLink data Card in July which automatically connects to the Internet in less than 15 seconds.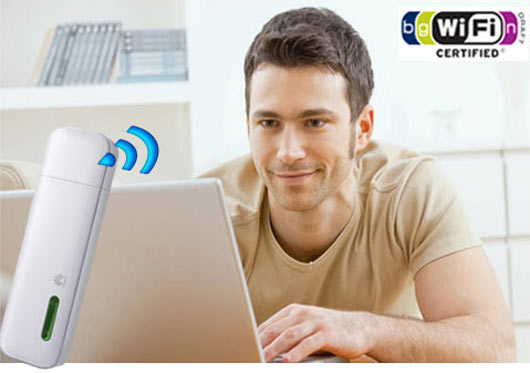 Being a Plug and Play device, it is easy to install and configure for first time usage. The Huawei E355 Datacard has an internal antenna that helps keep the device sleek and compact. Having an internal antenna also prevents accidental breakages should the device fall to the ground. The device can be powered by USB connection. This allows the datacard to draw power right from the computer itself. The Huawei E355 Wi-Fi modem comes with a USB interface. It also users the flexibility of powering with a variety of USB chargers.
Huawei E355 3G data card WIFI Dongle Specs And Features
Simultaneously connect up to 5 Wi-Fi-enabled devices
Balong V3 Chipset
Internal antenna
HSPA+ 21 Mbps DL and 5.76Mbps UL speed
2G & 3G Support – 850/900/1800/1900/2100 MHz
WLAN: 2.401 – 2.495 GHz; IEEE 802.11 b/g/n
Type3i technology with up to 20% more upload and download speed compared to non Type3i devices
Work with external power adapter, unlimited working time
Micro SD Card Slot (up to 32GB)
Data and SMS Service
OS: Windows XP SP2+,Windows Vista SP1+, Windows 7, Mac OS X 10.5+, Linux driver support
The device is just 90.6 mm high, 28.6 mm wide and has a depth of 12.6 mm. The Huawei E355 Datacard weighs in at just 40 g and is light enough to carry with you in your pocket, bag, or handbag. Depending on the connectivity provided by your network provider, the device lets you stay connected even during travel, letting you get your work done, no matter where you are.
The Huawei E355 3G data card is priced at an MRP of Rs. 5499 but it is available online on Flipkart for as low as Rs. 3,200.